Ganesh Chaturthi, the festival celebrating the birth of Lord Ganesha, is synonymous with devotion, joy, and, of course, scrumptious modaks. These sweet dumplings are believed to be Lord Ganesha's favorite treat, making them an essential part of the festivities. To add an extra layer of excitement to your Ganesh Chaturthi celebration, we present ten unique modak recipes, one for each day of the festival.
Day 1: Traditional Steamed Modak
Start with the classic steamed modak, made from rice flour dough and a sweet coconut and jaggery filling. This simple yet divine recipe sets the tone for the festive days ahead.
Also Read: Pakistan: IMF बेलआउट पैकेज के लिए चोरी-छिपे अमेरिका से की ऐसी डील कि बौखला जाएगा रूस
Day 2: Fried Modak
For a delightful twist, try frying your modaks. These crispy delights are filled with a mixture of khoya, nuts, and sugar, creating a heavenly combination of textures.
Day 3: Chocolate Modak
Introduce some modern flair with chocolate modaks. These sweet treats combine the rich taste of cocoa with traditional ingredients for a fusion of flavors.
Also Read: मुंबई: 69 किलो सोने, 336 किलो चांदी से सजी भगवान गणेश की मूर्ति
Day 4: Kesari Modak
Kesari, a beloved Indian sweet, meets the modak in this unique recipe. Saffron-infused semolina (suji) is used to create these delightful and aromatic dumplings.
Day 5: Mawa Modak
Mawa, or khoya, is a staple in Indian sweets. These modaks are stuffed with a decadent mawa and dry fruit mixture, making them a royal treat for your taste buds.
Day 6: Coconut-Jaggery Modak
Go back to the basics with a twist. These modaks feature a filling of freshly grated coconut combined with rich jaggery for a divine and traditional flavor.
Also Read: राजस्थान में 26 उंगलियों वाली अनूठी बच्ची ने लिया जन्म
Day 7: Dry Fruit Modak
For a healthy and nutritious option, try making modaks filled with a mixture of assorted dry fruits, roasted to perfection and sweetened with honey.
Day 8: Mango Modak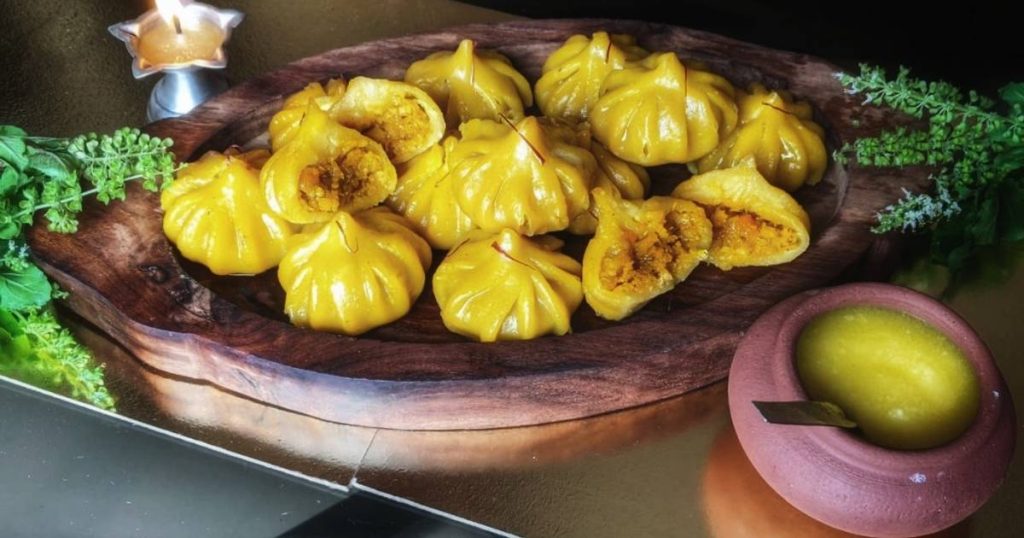 Mango lovers, rejoice! Incorporate the luscious flavor of ripe mangoes into your modaks for a delightful tropical twist.
Also Read: रणबीर कपूर की फिल्म 'एनिमल' का टीजर इस तारीख को आ रहा है
Day 9: Paan Modak
Experience the refreshing taste of paan (betel leaf) in modak form. These modaks are filled with a paan-infused mixture, creating a unique and refreshing treat.
Day 10: Rose Modak
End the festival on a sweet and fragrant note with rose modaks. These modaks are infused with the essence of roses and garnished with edible rose petals.
As you celebrate Ganesh Chaturthi, let these ten modak recipes add a burst of flavor and creativity to your festivities. Whether you prefer traditional or innovative flavors, there's a modak recipe for every palate. Embrace the joy of cooking and sharing these delectable treats with family and friends, and offer them to Lord Ganesha with love and devotion. Ganpati Bappa Morya!
Also Read: Ganesh Chaturthi – The Joyous Festival of Lord Ganesha