After a baby girl was born with as many as 26 fingers in Rajasthan's Bharatpur, her family termed her an "incarnation of goddess". She was born with seven fingers in each hand and six toes in each leg. The infant is being considered an incarnation of Dholagarh Devi, a goddess, by her family.
However, doctors have termed it a genetic anomaly. While it is normal to have 26 fingers, the condition is extremely rare.
Also Read: शाहरुख खान ने जवान में लगाई हुई सारी राशी की प्राप्त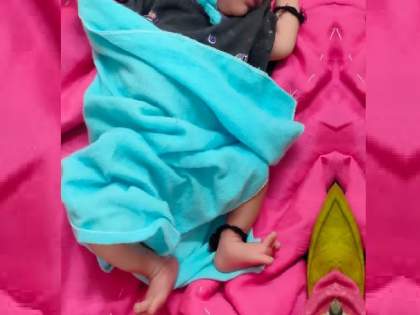 Doctors view the anomaly as a congenital problem while the child's 25-year-old mother Sarju and family are joyful, insisting the child is incarnation of Goddess Dholagar Devi.
The child was born in eight month of pregnancy. The doctor present, BS Soni, said having extra fingers is not harmful in anyway but remains as a congenital defect. The baby is a perfectly healthy baby, he added.
Also Read: Nobel Prize cash award set to increase to nearly one million euros